Individual Therapy
Therapy is a private and personal journey. Each person has their own reasons for seeking help at one time or another. I am here to try and work along side of you as you begin to gain a more in-depth look at your self, your coping skills, improved ways of communicating, healing, accepting and so much more. The more you invest in yourself the more you can achieve.
Individual Adolescent Therapy
Adolescence is a difficult time in life. Teens today face pressures of family, school, extra curricular activities, peer relationships and figuring out who they truly are. They also face the added pressure of social media and life on-line. I assist young people to build the necessary skills to navigate these waters while building their self-esteem, decision making skills and communication abilities.
Couples / Family Therapy
Every family is unique as are the hurdles they face. I help to create a blame free, open environment where couples and families can learn to communicate and problem solve in a healthy way. Gain the necessary tools to improve your family's functioning.
If you or your family is going through a separation or divorce Corinne is able to help. Corinne believes deeply in the parenting process and has shown many families how to co-parent successfully during these hard times. Not being together does not mean you don't have to be on the same page when it comes to your kids.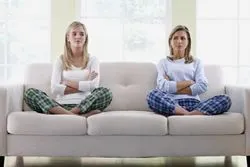 Areas of Treatment Include:
ADHD
Anger issues
Anxiety
Attachment
Behavioral issues
Blending family issues
Bullying Issues
Communication problems
Coping skills (increasing)
Depression
Divorce/Seperation
Family functioning
Lack of ambition / goals
Loss and grief
Power struggles
Respecting authority and others
School problems
Self-estem
Sexual issues
Social skills